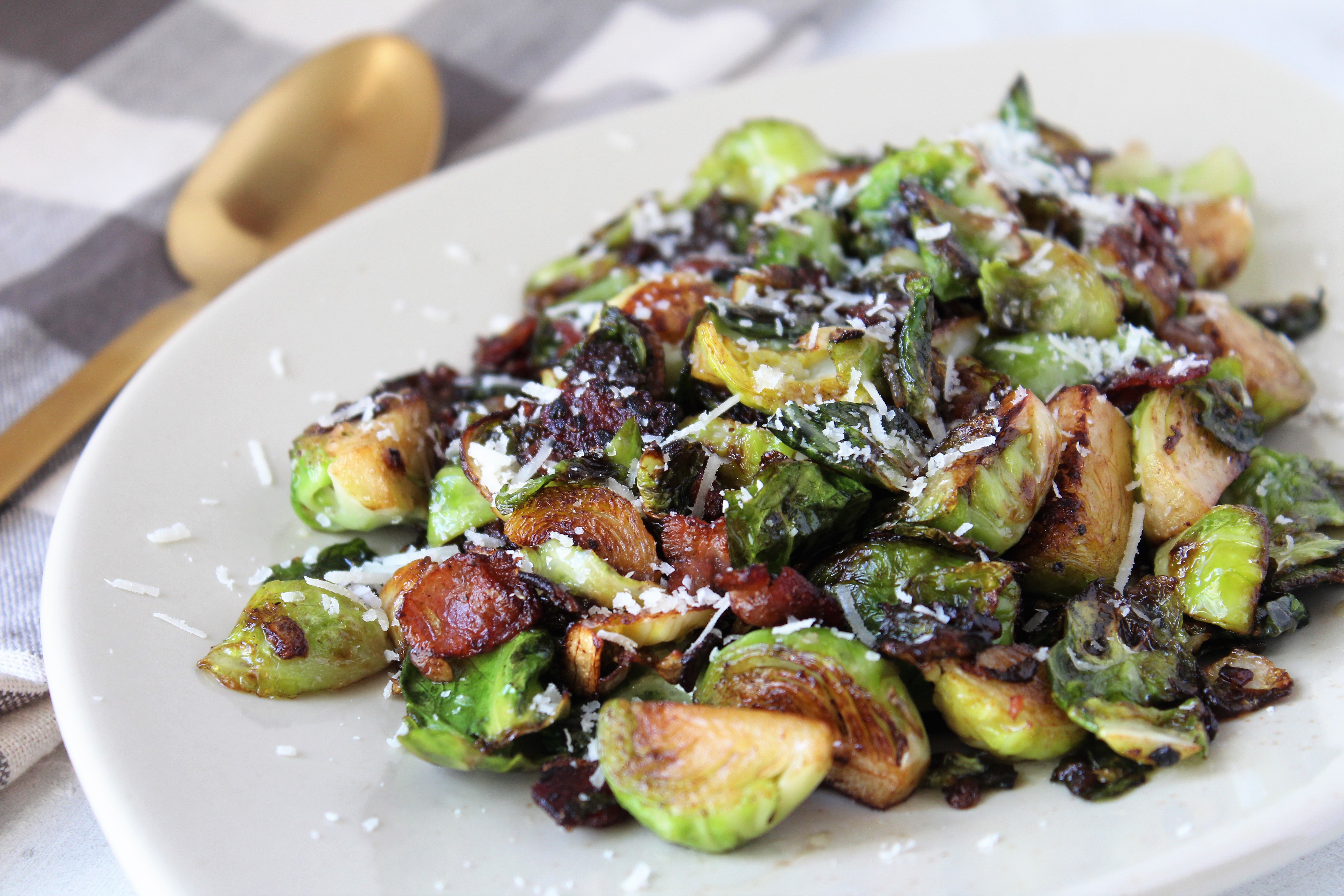 Balsamic Glazed Brussels Sprouts with Parmesan and Bacon
I love everything about these little guys! You could take out any one of these ingredients and they would still be delicious…but I wouldn't! I sooo wish I started making these sooner than last year.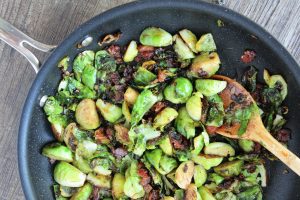 Do you ever feel bad for other people because they don't like something amazing that you like and you don't understand why?! Well…Erik doesn't eat brussels sprouts…more for me I guess. I give him credit for trying them multiple times just to be sure, but he's officially decided he is not on the brussels sprouts train, even if the train has cheese, garlic, and bacon. I prefer mine a little charred and crispy on the edges, bursting with bacon and garlic flavors, and then salty nutty Parmesan cheese, and that touch of sweetness from the balsamic glaze. YUM!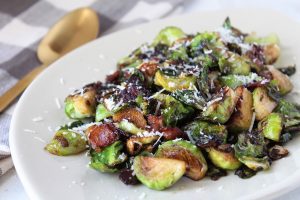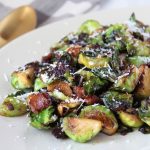 Balsamic Glazed Brussels Sprouts with Parmesan and Bacon
Ingredients
1

lb

Brussels sprouts

1/4

cup

onion

chopped

3

cloves

garlic

minced

3

slices

bacon

chopped (raw)

1

tbsp

olive oil

optional

1

tbsp

butter

salt and pepper

1/4

cup

fresh grated parmesan cheese

drizzel

balsamic glaze

such as Trader Joe's
Instructions
Trim the stems off of the sprouts. Slice in half, or quarters for really large ones, or leave whole if smaller, just so that they are all similar in size for cooking time.

Add sprouts, bacon (uncooked), and onion to a large skillet over med-high heat. If the bacon does not give off enough fat for cooking, add a swirl of olive oil. Add minced garlic, salt and pepper to taste. Cook on medium heat until desired doneness. I prefer charred and crispy, about 12-15 minutes.

Just before removing from the heat, add butter and parmesan and stir until melted. Transfer to a serving bowl, and drizzle with balsamic glaze and more parm if desired!
Recipe Notes
You could really omit any of these ingredients if you want and they would still be great (but why would you want to).
I use the balsamic glaze from Trader Joe's on EVERYTHING! I have seen many other brands in most grocery stores these days, by the olive oils and balsamic vinegar.