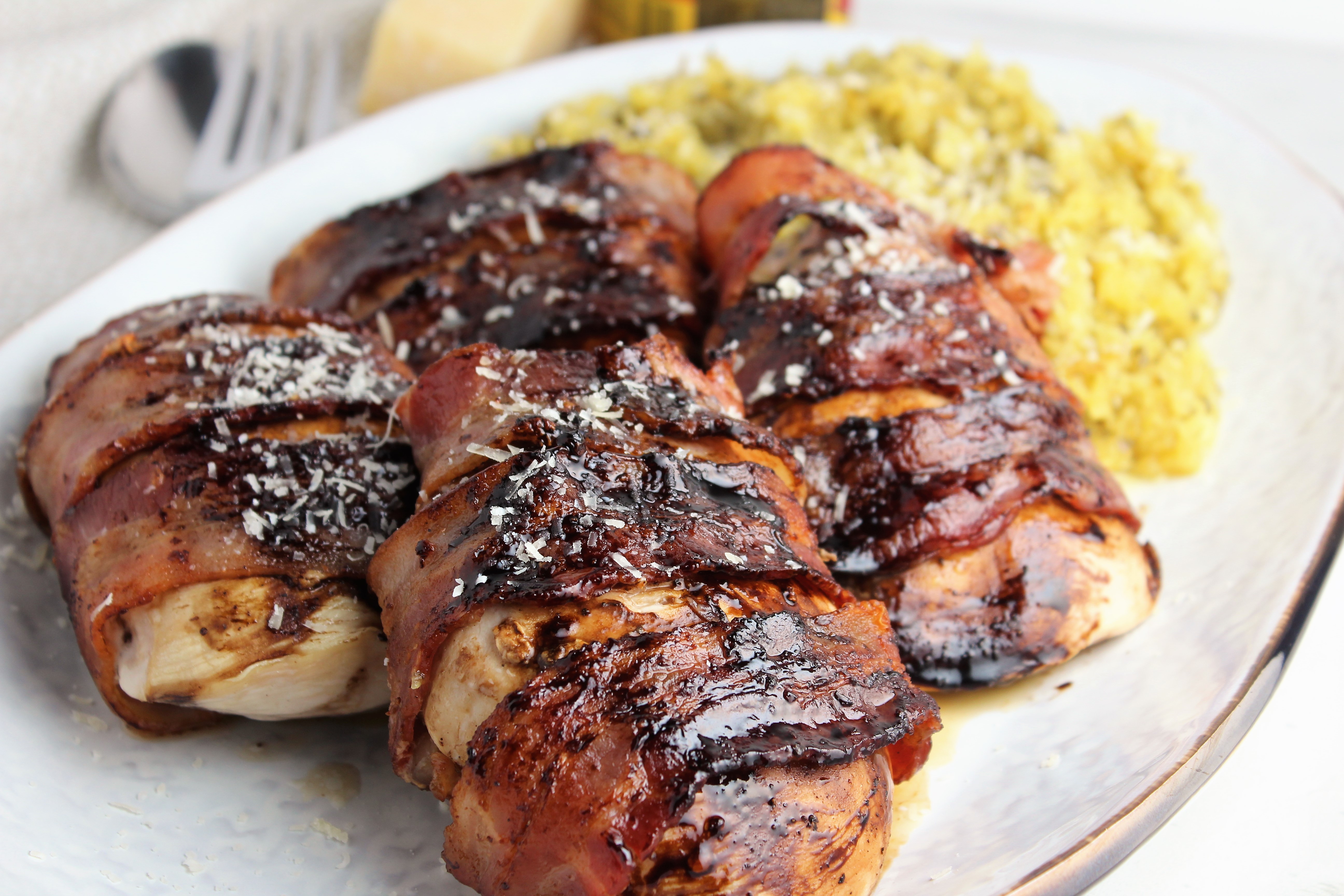 Bacon Wrapped Balsamic Chicken
I'm always looking for ways to jazz up a chicken breast. The same old marinades can get old and boring! If you've been following along for some time now, you know that I have a small obsession with balsamic glaze. I first tried (and still use) the version that Trader Joes sells, but I have since seen many other varieties sold at any local grocery store which is great since many do not have access to a Trader Joes. This four ingredient chicken dish is so easy with big flavors, and perfect for a simple weeknight meal. It's simply seasoned chicken breasts with salt and pepper, wrapped up in bacon, and glazed with sweet and tangy balsamic glaze, yum!
This chicken dish pairs perfectly with my Parmesan Pesto Spaghetti Squash for a delicious, flavorful meal. Enjoy!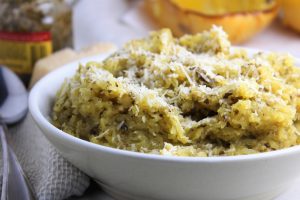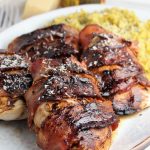 Bacon Wrapped Balsamic Chicken
Ingredients
4

chicken breasts

skinless, boneless

8

slices

thick cut bacon

3

tbsp

balsamic glaze

salt and pepper

fresh grated Parmesan cheese

optional
Instructions
Preheat oven to 350 degrees. Spray a large baking dish with non-stick cooking spray.

Preheat a large skillet to med-high heat. Par-cook bacon on both sides until it is about halfway cooked, only about 2-3 minutes per side. You still want it flimsy, not crisp. Drain on a paper towel. This will help the bacon to fully crisp up while baking in the oven with the chicken.

Season both sides of the chicken breasts with salt and black pepper. Baste the chicken with 2 tbsps. of the balsamic glaze, reserving 1 tbsp. for basting after the cooking is complete.

Wrap each chicken breast with 2 slices of bacon. Secure with toothpicks if necessary, and place in greased baking dish. Bake chicken for 30-35 minutes, or until cooked through depending on the size of the chicken breasts. Baste with the remaining 1 tbsp. of balsamic glaze, and sprinkle with Parmesan cheese if desired.
Recipe Notes
I highly recommend serving this chicken with my Parmesan Pesto Spaghetti Squash, the flavors really complement each other so well!