Avocado Ranch Wedge Salad
This Avocado Ranch Wedge Salad is a dream…so many goodies, which is how I like my salads. The dressing couldn't be easier…well ok it could be easier if you just pour it out of the bottle with no alterations, but this version is SO yummy. Take your favorite ranch, add avocado and some fresh herbs, boom avocado ranch.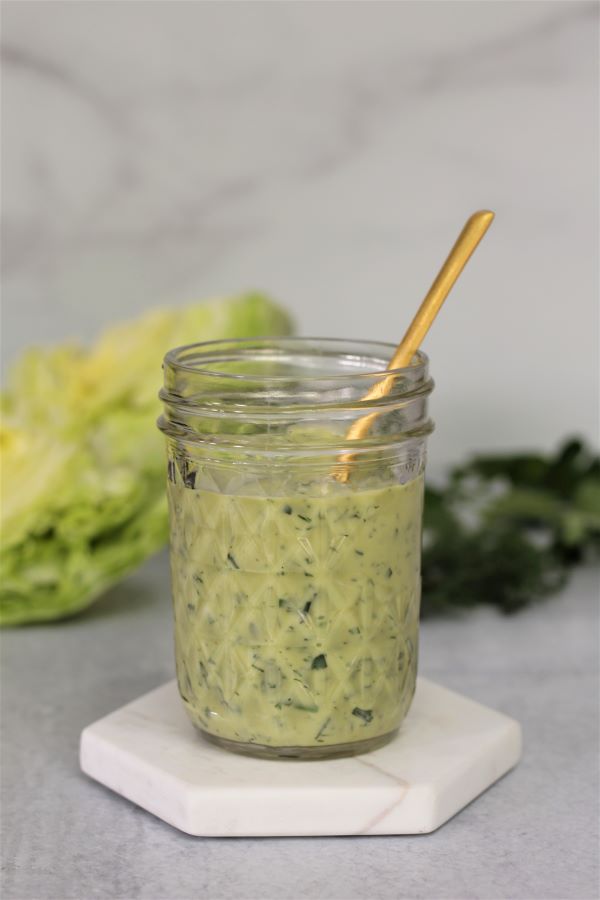 If you want to try a scratch made ranch dressing, try my recipe for Buttermilk Cucumber Ranch Dressing, so fresh! I know ranch lovers usually have their cult favorites so just grab that (I know it's already in your fridge), add avocado, lemon juice, dill, chives, and parsley and blend until smooth.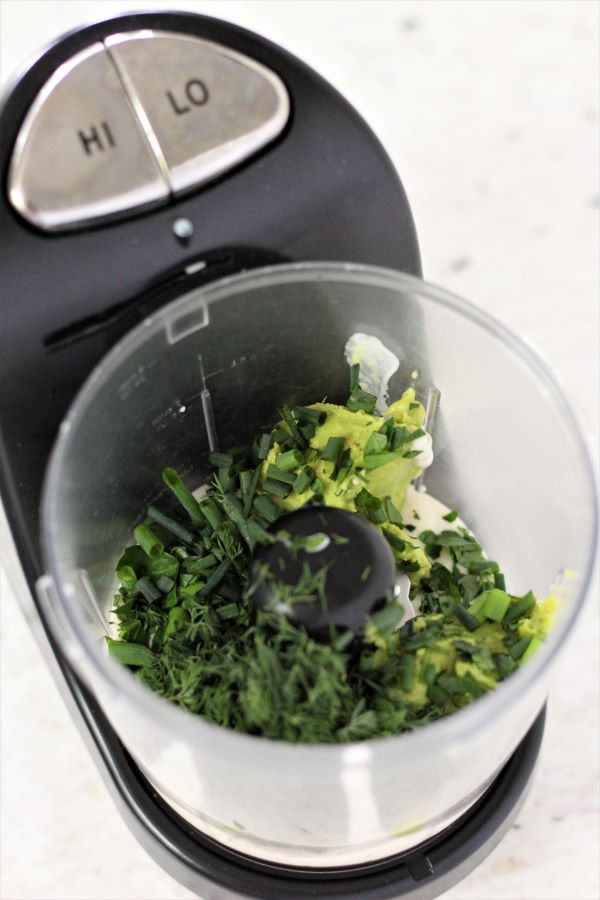 This mini food processor gets so much use in my kitchen. PERFECT for dressings, or to crush up cookies or crackers for crusts!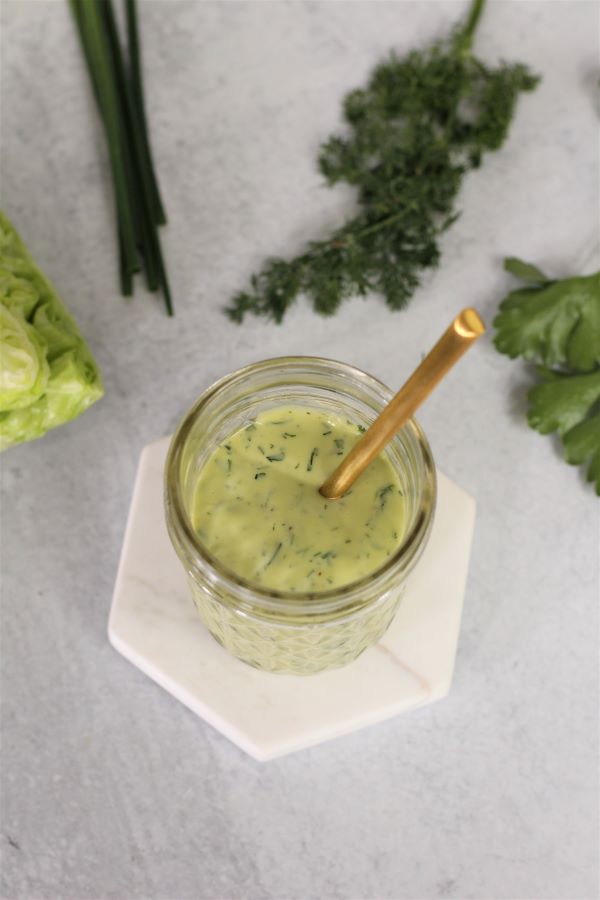 The Goodies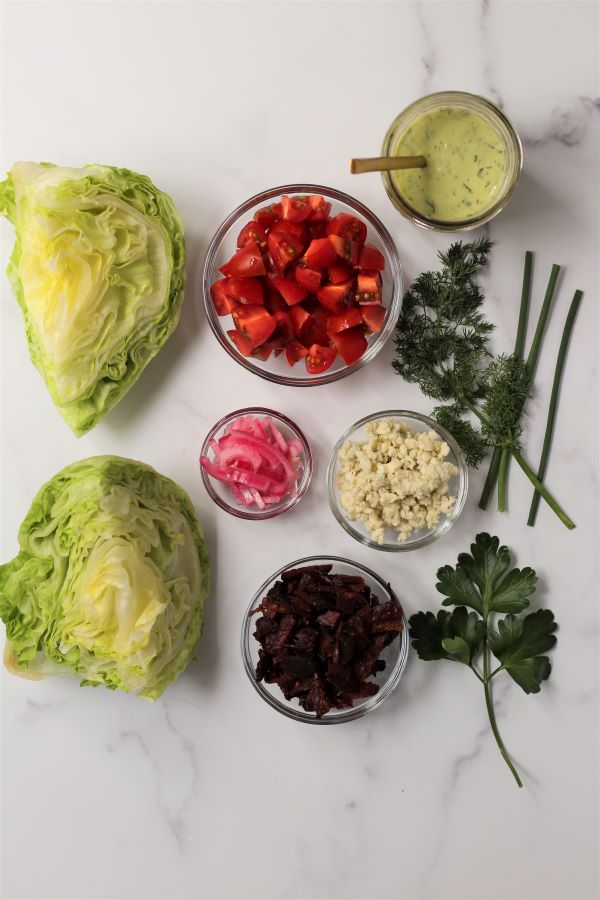 The flavor and texture combination of these ingredients is just perfect, so I highly recommend this variety. I know some people may not care for certain things, so swap out what you need. I used bacon that I had made for my hot honey bacon jam and definitely recommend, adds a sweet and spicy vide, so good! The pickled red onions are also a must, and don't be afraid of pickling your own, you can do a quick pickle and have them in no time.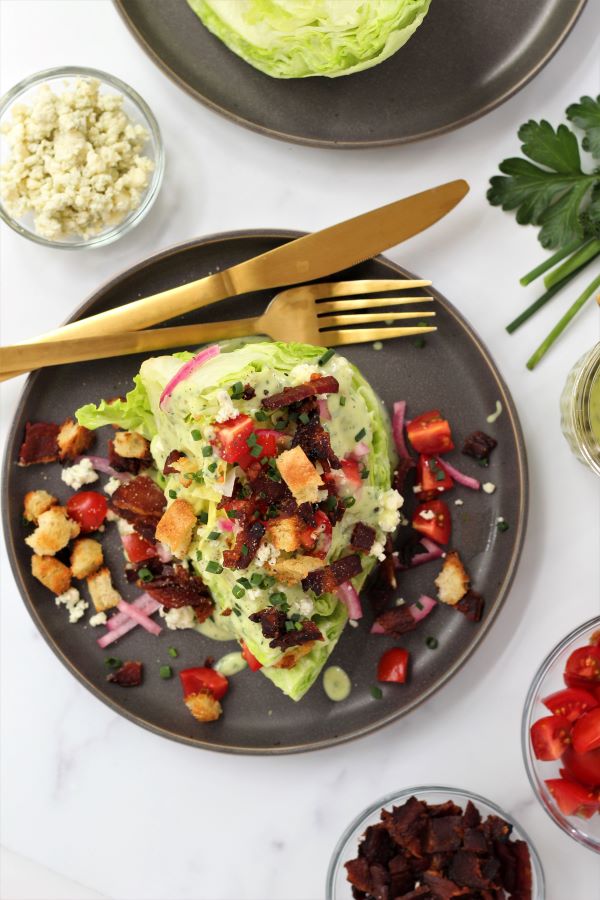 The crushed croutons add a really nice crunch, but you could also add some toasted nuts. I just toasted some old bread under the broiler to make my own. Toss torn bread with olive oil and garlic salt and broil for just a couple minutes, yum! Or just crush up some store bought, whatever is for favorite.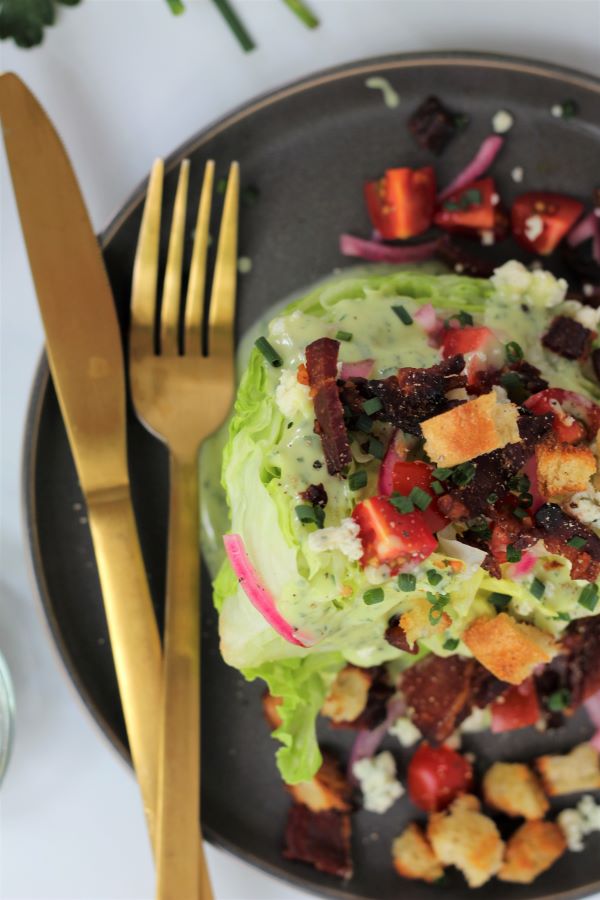 I plate these salads by smearing some dressing on the plate, that ensures you get a good dressing coverage on all sides! Let's talk gorgonzola cheese. I know it's a love/hate ingredient, but honestly I don't love super blue cheese either. Gorgonzola is pretty mild and pairs really nicely with the avocado ranch. It makes it a ranchy-blue cheese combo dressing, and it just works.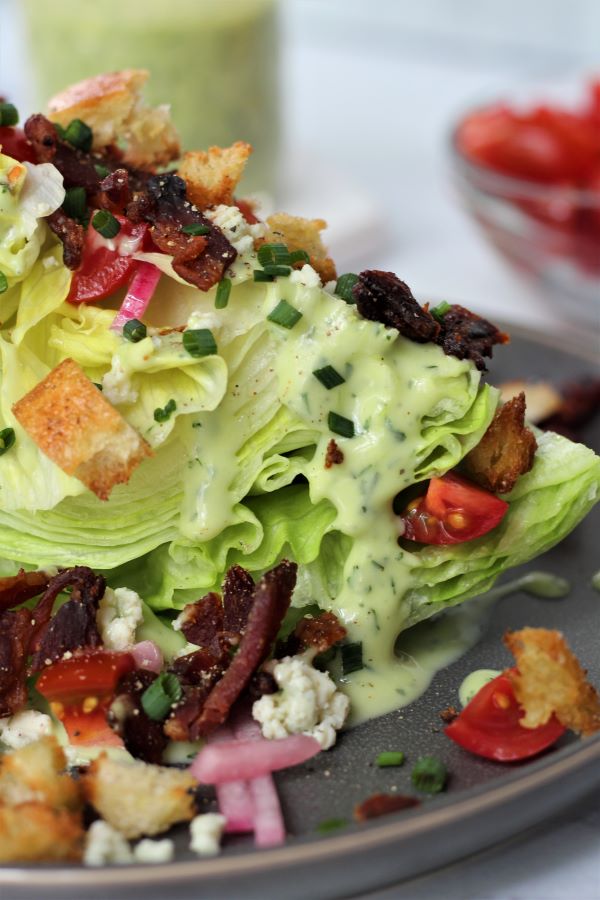 Can't wait for you to try this Avocado Ranch Wedge Salad, let me know how you like it by rating and commenting below, or tag me on social media! Use any leftover dressing as a dip for veggies, chips, or fries!
Shop this post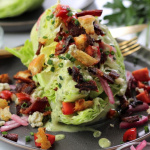 Avocado Ranch Wedge Salad
It's loaded with toppings, and the dressing is semi-homemade so super easy!
Ingredients
For the avocado ranch
1/2

cup

ranch dressing

1/2

ripe avocado

1/2

tsp

lemon juice

1/2

tbsp

fresh dill

1/2

tbsp

fresh parsley

1/2

tbsp

fresh chives
For the salad
1

head

iceberg lettuce

quartered

1/2

cup

chopped cooked bacon

1/2

cup

cherry tomatoes

quartered

1/2

cup

gorgonzola cheese crumbles

1/4

cup

sliced pickled red onions

1/4

cup

crushed croutons

Sliced chives

for garnish

Fresh cracked black pepper
Instructions
For the dressing
Add all dressing ingredients to a small food processor, and blend until smooth and well combined. Set aside or refrigerate until ready to use.
Assembly
On a small plate, spread about 1 tablespoon of the dressing onto the plate. Place the iceberg wedge on top of the dressing. Repeat with the 3 other plates and wedges. Drizzle the rest of the dressing evenly on top of each wedge. Top with bacon, tomatoes, gorgonzola, pickled red onions, croutons, and fresh chopped chives. Finish with fresh cracked black pepper.
Recipe Notes
Use whatever your house favorite ranch dressing is. See the link in post for my full homemade ranch recipe. Try using my hot honey bacon recipe, the added sweetness and kick from the bacon is awesome!
For quick pickled red onions combine 1/4 cup water, 1/4 cup white vinegar, 1 tbsp sugar or sweetener, 1/2 tsp salt, pour over 1/2 red onion sliced. Let sit at room temp for 20-30 minutes. Store in fridge for up to 2 weeks.
Use any leftover dressing as a dip for veggies, oven fries, chips, or drizzle on a baked potato, sandwich, or tacos!
This post may contain affiliate links which won't change your price but will share some commission.